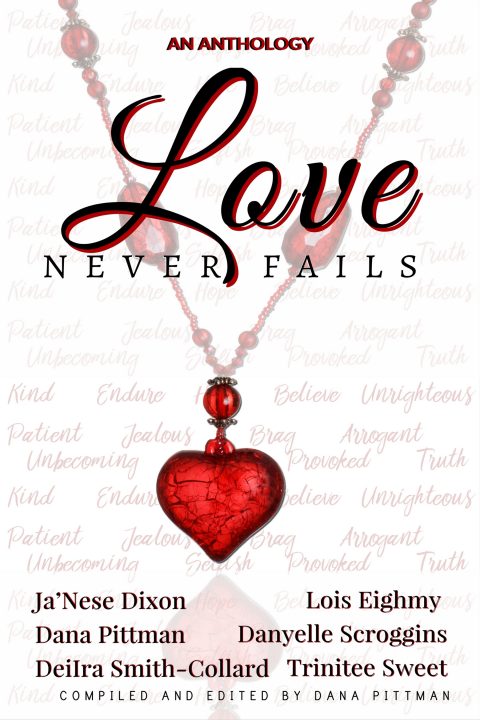 Love Never Fails
Will do it their way or God's way?
Serafine LeClaire is a native of New Orleans, LA and operates a little ranch outside of Houston, TX. Loving Ranch facilitates a series of retreats and workshops for women.
In Love Never Fails, six women share their before, during and after learning the true meaning of love according to 1 Corinthians 13:4-8. Six women arrive at Loving Ranch—voluntarily, bribed, courted ordered and even under duress. Each wrestling with love. Each needing to retreat. Each longing to regroup and decide whether they will do it their way or God's way.
In the end, the women at the Love Never Fails Retreat must decide whether they will take God at His Word…
"…that love bears all things, believes all things, hopes all things, endures all things. Love never fails…."
STORIES INSIDE
Love Is: Serafine LeClaire is a loving and fearless facilitator but privately she is struggling to keep the doors of Loving Ranch open. Her world sinks to a new low when Elijah Thomas, the man she once loved, reappears and issues a promise that equally scares and excites her. Will she trust God even in this? Serafine is about to find out.
Love's Hope: Sandra James has life all figured out, or so she thinks. But her successful business, commitment-averse boyfriend, and her sister's shotgun wedding threaten her health and sanity. She will run to Love Never Fails Retreat in hopes of relinquishing her childhood dreams and embracing her reality even if it breaks her heart.
For the Love of Love: Lilah Delacruz has a booming business and the finances to match, she seems to have the picture perfect life. But everything isn't as it seems, especially in love. Lilah meets the man of her dreams and everything appears to fall into place until it doesn't. Not caring about the consequences, she will do anything for the love of love even the unthinkable.
Enduring Love: Priscilla Marshall is a wife and business owner who decides instead of exposing her husband's indiscretions she'll take the money and leave. Her plan is going just fine until her doctor visit reveals a shock. Confused she decides to attend the Love Never Fails retreat. But will this retreat give her a new perspective on life and love, or will she carry on with her life-altering plans?
Love Brought Me Back: Alexa Hawthorne, tenacious and self-assured is married to the man of her dreams and running a successful business; living a grand life.  Then a crisis strikes that rocks her to the core, leaving her conflicted and unsure of what to do. Alexa makes her way to Loving Ranch. Could this be a divine appointment?
A Second Chance at Love: Nurse Hannah Bergen, has great compassion for her patients. Chance Dodd loves this about her. But in matters of love, will Hannah be able to show herself compassion, let go of her past, and learn to trust again. And will Chance's enduring patience soften her heart and win her love?