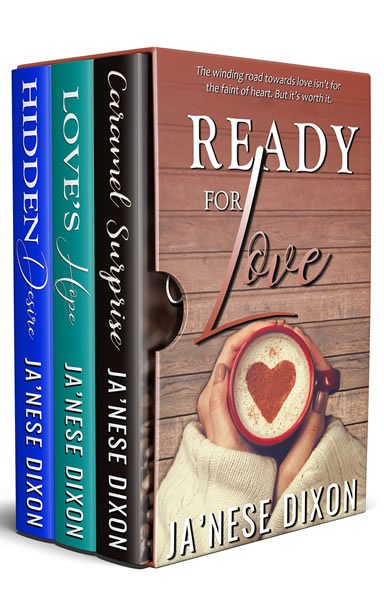 Ready for Love
What happens when a summer getaway offers a second chance at love?
The winding road towards love isn't for the faint of heart. But it's worth it.
Journey with friends Sandra and Bruce as they find love with each other. But it's not without secrets as the two see each other in a new light. Together they will both learn what real love means.
Book 1: Caramel Surprise
Sandra James, owner of Coffee Confessions, a small Houston coffee shop that serves up coffee, books, music and good ole' fashion customer service, which keeps her shop full of eclectic patrons at the cost of her personal life. She yearns for a man of her own, but will all hell break loose when a love lost and love anew collide?
Book 2: Love's Hope
Sandra James has life all figured out, or so she thinks. But her successful business, commitment-averse boyfriend and her sister's shotgun wedding threaten her health and sanity. She will run to Love Never Fails Retreat in hopes of relinquishing her childhood dreams and embracing her reality even if it breaks her heart.
Book 3: Hidden Desire
Bruce is in love with his best friend, and she doesn't know it. He plans an exotic seven-day getaway to show Sandra he desires more than friendship, he wants forever. But can he convince her that love is worth risking their friendship?
Ready for Love is a complete romance series featuring three sweet romance stories. This isn't instalove but a forever kind of love between friends willing to go the distance for love. If you love romances with independent women, strong men, and strong family ties, THIS is the story for you.