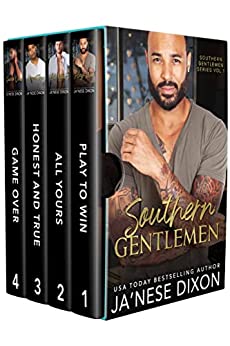 Southern Gentlemen Box Set Volume 1
Alpha men who love strong women and their children while building a family legacy with soul food.
Play to Win
Caramel skin, tatted body, he's everything I never knew I needed. It's not just the man, but the Montgomerys make my daughter and I feel something we never had—like a real family. Now he wants to claim my mind and my body.
Can I trust him with my heart?
All Yours
He's my brother's best friend and the man gunning for my job. We're on opposite sides of this thing, yet he finds a way to crawl past my defenses. He's persistent and intuitive, and the man can cook.
But will he be yet another man to shatter heart?
Honest and True
I love the Montgomerys, but one more than the others, except he pretends we're just friends. Then we kiss, and he turns my teenage crush into an unquenchable longing. But I refuse to remain in the friend zone when my life and heart are open to him and his daughter.
Can this love endure, or is it time to finally walk away?
Game Over
He enters the room, and there's a collective sigh. He's my son's coach, but this thing with us is undeniable. A chemistry that grows every time he's near. I fold, agreeing to an intense, life-changing secret fling because all things must come to an end.
Or do they?
CAUTION: Southern men do it better. #imjustsaying